Why I Give – Sharing the remarkable spirit of Boston University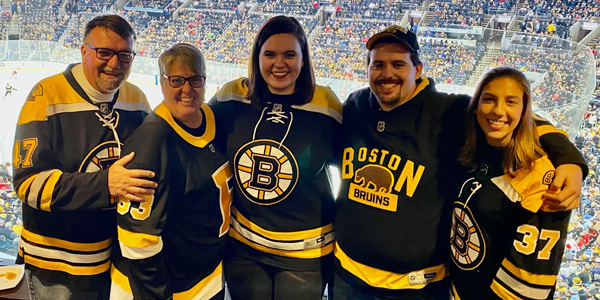 By Christina Lybass (Parent ENG'17, Wheelock'22)
Little did I know when I moved to South Florida from the Midwest in 1985 how much my life would change. I taught high school, got married, had children, and was lucky enough to be a stay-at-home mom. Our family moved from Florida to Glastonbury, Connecticut, in 1998, where our children grew up playing hockey, soccer, and baseball and studying dance. We soon learned that our family loved hockey. So it made perfect sense that when it came to traveling, Boston was our destination of choice.
In 2000, my husband, David, decided he wanted to pursue his master's degree. He chose the Executive MBA program at Boston University, and was gone every other weekend for 18 months, which opened the door for the children and me to join him in Boston at least once a month. We went to BU Men's Ice Hockey, Bruins, and Red Sox games. Our son, Michael, then five years old, decided he was going to BU when he grew up. After David graduated with his EMBA in 2001, we continued going to Boston.
During his junior year of high school, Michael told us BU was his first choice. Although I insisted he look at other schools, he got into BU early decision and never looked back. He participated in the First-Year Student Outreach Project (FYSOP), which welcomes BU's incoming class with a week of community engagement, service, and education before classes begin. He also did a semester abroad in Madrid, made lifelong friends, and graduated from the College of Engineering in 2017 with a degree in mechanical engineering. He has been working in the field of aerospace ever since.
Our daughter, Elizabeth, applied to BU and other schools, and ultimately chose to attend a different college in Boston. She eventually decided that the major she had chosen was not for her and reapplied to BU. She was accepted into the BU Wheelock College of Education & Human Development and graduated in January 2022 with a degree in middle school science education.
I am the only one who does not have a degree from BU, but I love the University and everything it taught and gave to my family. I love the people I have met who work there. Dean Kenneth Elmore is an inspiration and a joy to be around. I was even able to meet Mike Eruzione, captain of the 1980 Winter Olympics US national team. I was in high school that year, and admired him and his team from afar. It was fantastic to meet him!
Because of all these things, I chose to include BU in my will. I want my and my family's donations to enable other families to experience the remarkable spirit of Boston University and the City of Boston that have meant so much to us.
Throughout our children's lives, we have tried to teach them to help others and, when possible, to give both time and donations. Now that they are adults, I am hoping they will continue our legacy of giving to Boston University and the communities where they choose to live.