The science of financial planning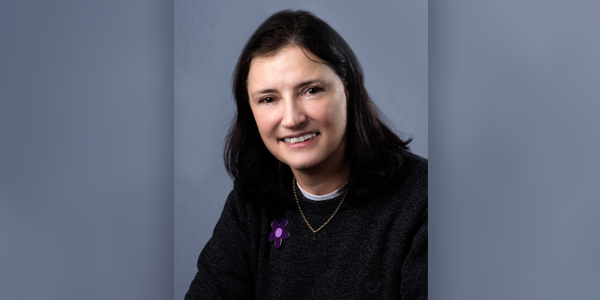 Bronwyn Martin (CAS'85, GRS'87, MED'94) loved the scientific education she attained at Boston University, where she received a full scholarship. "But even then, just with the cost of living I had to take out every loan I could," she says. "That's kind of why I became a financial advisor."
Martin received a doctorate in biochemistry in addition to her bachelor's and master's degrees in biology, all from BU. But after launching her research career at Harvard and the National Institutes of Health, she says, she "burned out." So she made a switch.
While working as a ghostwriter for scientists and doctors, Martin earned her MBA at West Chester University of Philadelphia, then went into business for herself as a financial advisor. She's now the CEO of her own firm, Martin's Financial Consulting Group, a Pennsylvania-based financial advisory practice of Ameriprise Financial Services, LLC.
Many of Martin's clients are doctors, so she finds her BU education and experiences helpful in connecting with them. "Some of my MDs became my clients when they were residents," she says, and she knows exactly the kind of burden they face with medical school debt.
"You become really good at what you want to be good at, and then you get caught up in this debt whirlwind," Martin says. "As a financial advisor now, I help people get out of debt and be more financially successful."
She's particularly interested in helping her clients plan for the financial challenges that can arise in later life, and for ensuring that they have arranged their estates exactly as they'd like-even if they think they're still too young to make such plans.
"People always put off their estate planning-things like wills, powers of attorney, medical power of attorney-because, you know, it just seems like 'Well, that's not going to happen for a really long time,'" Martin says. But her own experience has taught her not to wait.
"I lost my baby brother," she explains, as well as her father, a beloved professor at what is now BU's Questrom School of Business. Another family member has dementia, so she's familiar with the challenges for children and partners in such situations. "If you let it go too long, they don't understand what's going on. That's why it's important that before they're at that stage, they've specified who their trustee will be," she says. "We never know what's around the corner for us."
One planning tool Martin often recommends is something that people may overlook, particularly when considering their philanthropic priorities: life insurance.
"I love life insurance, because it's such a great way to give away a lot of money," she says.
And Martin practices what she preaches. As part of her own estate planning, she has taken out a life insurance policy-one that she has designated to fund scholarships at the recently renamed Boston University Aram V. Chobanian & Edward Avedisian School of Medicine. She's particularly hopeful that these scholarships will support students who plan to pursue a career in research.
"It's only through the research that we understand the pathways of diseases," she says. "All those textbooks that we have to digest and memorize? That's because of research."
Spoken like a scientist … and a financial advisor who's still grateful for her scientific education.
"I may not be a scientist anymore per se," Martin says, "but I realize how incredibly fortunate I am to have my PhD from a great university, and how fortunate I was that I got scholarships.
If I can be part of giving back to help somebody else, that's what it's all about."