Honoring a Mentor Who Changed Lives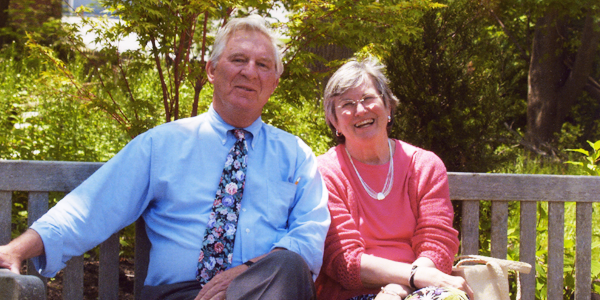 The life of Charles Michael Bliss, Sr. (MED'63, Parent MED'89), changed when Franz J. Ingelfinger, MD, offered him a position in the Gastroenterology Fellowship Training Program at Boston University School of Medicine, a program the esteemed BU professor founded in 1945.
The year was 1965, and Bliss had just returned from a year as a medic in Vietnam, caring for injured solders. He had served as an intern under Ingelfinger and even saw him "for a moment," he says, in Vietnam, where Ingelfinger was investigating the causes of diarrhea among the troops.
"When I completed my Army career, I visited Dr. Ingelfinger and asked him if he had any jobs available for me," says Bliss. "And he said, 'Well, Mike, I'm sorry, there's no room for your residency, but how would you like to be a gastroenterology fellow?' 'I said to him, knowing full well that he knew that I knew I had no other choice, 'Well, is gastroenterology any good?' He answered, very seriously, 'Well it's always been very good to me.'
"Now, I told that story to a large group of famous gastroenterologists at an annual American Gastroenterological Association meeting in 2001 when I received a Distinguished Clinician Award. And this group of prominent docs laughed out loud. They thought it was a great story."
Ingelfinger served as chief of the gastroenterology clinic at Massachusetts Memorial Hospitals, which later became Boston Medical Center (BMC).
"I really fell in love with gastroenterology because of him and his teachings," says Bliss.
Ingelfinger retired from BU in 1967 to become the editor of the prestigious New England Journal of Medicine. But he still came by, says Bliss, to do grand rounds. "He was always very kind and very thoughtful, and just a wonderful man."
In honor of this mentor, Bliss and his wife, Barbara, established a charitable gift annuity, with the remainder to go to the Franz J. Ingelfinger, MD, Professorship in Gastroenterology.
Bliss's fond memories of Ingelfinger range from his gift for making clinical practice and rigorous science accessible for young doctors to the affection he had for his fellows. "Dr. Ingelfinger used to call his fellows 'Fingerlings,' " says Bliss, with a laugh. "As it turned out, I was his last Fingerling."
It was, however, far from Bliss's last foray into the field. He devoted himself to gastroenterology, completing his fellowship at BU under Robert Donaldson, MD. He then served on the school's faculty from 1970 until he fully retired, in 2006, as an associate professor of medicine, teaching his own students—as he had learned—that care of the whole patient was paramount.
"Gastroenterology is exciting, different," says Bliss. "You deal with many different organs: the stomach, the intestines, the liver, the pancreas. It's hands-on, with a lot of unknowns."
He transferred that love of discovery to his son, Charles Michael Bliss, Jr. (MED'89), who followed in his footsteps. After earning his medical degree, the younger Bliss did his internship and residency in medicine and his fellowship in gastroenterology at BMC (then called Boston City Hospital). Today he is an assistant professor of medicine at MED.
It's a legacy his father is proud of. "My son took over a lot of my patients when I retired," says Bliss. "He still tells me, 'Oh, Mrs. Jones sends you a big hug.'"
The culture at MED—being on the front lines for the underserved, the warm support of the deans—nurtured that exploratory spirit. "I got wonderful training from the School of Medicine and from Boston City Hospital, and all of the faculty that were there," says Bliss. "I wanted to repay some of that, the best way I could."