Honoring his wife's memory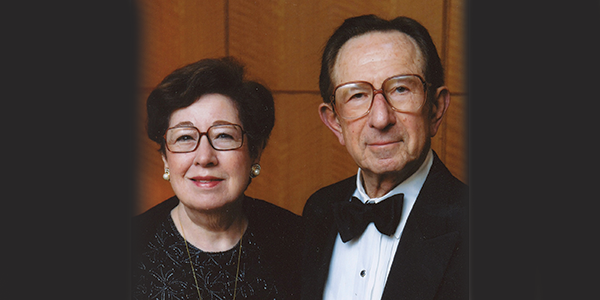 For Saul and Gitta (Questrom'63, LAW'65) Kurlat, education was transformative. Saul, a World War II veteran, attended college through the GI Bill; Gitta wanted to earn a law degree and turned to BU, where she studied management as an undergraduate and then went straight to the School of Law. "Education has always been very important to both of us," says Saul. "It's been at the forefront of everything we've both done."
The couple, who supported causes in higher education and medicine, had discussed establishing an endowed scholarship at the law school. After Gitta's passing in 2014, Saul formally documented a bequest intention to establish the Gitta Kurlat Scholarship Fund. Endowed scholarships, such as the one the Kurlat gift will create, are critically important at the School of Law. These permanent resources enable the School to welcome the most accomplished and talented students, regardless of need.
Saul decided to further honor Gitta by requesting that the Kurlat Scholarship support female students, as Gitta had been just one of four women in her class. Gitta remained at BU as an instructor for a year before starting a highly successful career as a partner at the firm now known as Rubin and Rudman, specializing in mergers and acquisitions. Throughout, she maintained a strong connection to BU, ultimately earning a Distinguished Alumni Award in 1999.
"She got a very good education at BU," Saul says today, adding that Gitta also played a pivotal role in helping him launch and grow his own technology company. "She thoroughly enjoyed practicing law, and she thoroughly enjoyed Boston University."