A Love for Nature and a Sense of Service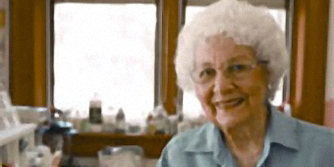 Annamarie Hayes-Eggert CAS '47, GRS '48, SED '78 studied biology at Boston University during the war years. "The boys were away at the war, and we all prepared ourselves to help and to give," she says. "There was an air of service to country and to community." This sense of service was deeply engrained in Annamarie, and it has carried through to her philanthropy today.
Her class was the last to graduate from the College of Liberal Arts when it was located in Copley Square, and Annamarie recalls the small class sizes and personal, warm relationships with her professors. "They gave me the necessary start to prepare me for all the roles I was to play in the future and instilled a spirit of giving that was incorporated into my philosophy of life," she says. "I don't know how they did it, but they did."
Annamarie's accomplishments since graduating BU would have made her professors beam with pride. Not only has she financially supported the university that taught her to value service, she's contributed in her own personal way to the civil rights movement (setting up labs where others would not in segregated black hospitals in Virginia); helped with research that led to the first successful open heart surgeries; set up her own private psychology practice; earned a doctoral degree; and held public office-all on top of raising three children, painting, and traveling to Africa to take photos on safari.
When she moved to Sedona, Ariz., in 1986, Annamarie cultivated her passion for nature and combined that with her instinct to serve the community. "They were building so quickly and hurting the lovely environment," she says. "I had to run for city council, and I became vice mayor of Sedona." As vice mayor, she helped create an environmentally sensitive land ordinance to help preserve the city's natural beauty-giving back what she could to the landscape she loved.
So when Annamarie reached the time in her life when she was ready to give back monetarily, she called her alma mater and said she wanted to make a gift to a program that embodied her love of nature. College of Arts and Sciences Professor Tom Kunz's program through BU's Center for Ecology and Conservation Biology brings students to the Tiputini Biodiversity Station in Ecuador was the perfect match.
In 1997, Annamarie gave a generous outright gift and later established a charitable gift annuity to benefit the Tiputini program. "I feel that Tom has captured a special place there, and he is going to imbue a lot of students with some of the same feelings I have about the environment," she says. Annamarie travelled to Tiputini herself in 1998, 1999, and 2011. "People don't believe that there are still places like that-it's a magical place."