Supporting Social Work Students' Pursuit of Service Careers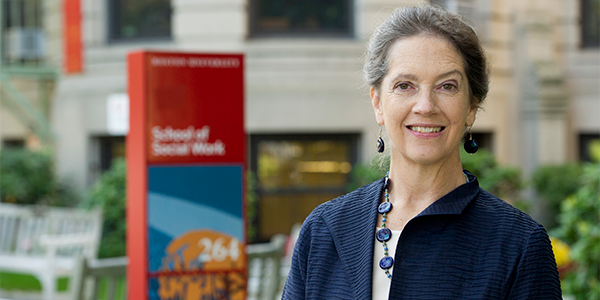 Gail Steketee is a Boston University veteran: In her 31 years at the School of Social Work (SSW), she served first as a faculty member, then as dean from 2008 through 2017. Why did she stay so long? The school, she says, embraces her core values: a commitment to rigorous, forward-thinking scholarship, innovative educational programming, and social justice.
"For me, BU represents the best of my career experiences," says Steketee. "That includes my research with colleagues worldwide, the support of my work by previous deans, access to travel funds, and the ability to focus on my professional affiliations."
Steketee and her husband, Brian H. McCorkle (GRS'92,'99), have long supported BU with current-use gifts. Upon her retirement, they decided to augment their contributions by leaving a gift in their estate plans to create an endowed scholarship fund at BU. "We agreed we should set aside a percentage of the available dollars in our estate to go to BU in honor of my long-standing career benefits and BU's ability to train the next generation of leaders," she says.
Steketee hopes the fund will grow to a point where it can provide a full scholarship to a student every year. "Social work students often have high financial need," she says. "Prevention of debt for them is very important to free them for their service careers, which improve all of our lives."