Nurturing the Next Generation of Historical Music Performers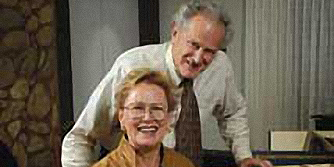 When Robin and the late Robert Margeson first read about the Historical Performance Department at Boston University's College of Fine Arts-and its resident professional ensemble, the Grammy-nominated orchestra Boston Baroque-they knew they had found an opportunity to honor their passion for the music of Bach, Vivaldi, and their peers and overcome tax hurdles associated with their highly appreciated stock holdings. "We were financially ready to make a charitable gift," says Robin (CFA'66), a harpsichordist with master's degree in piano from BU's School of Music. "It was just serendipity. It was meant to be."
The Margesons called BU's Office of Planned Giving and within a month had established a charitable remainder trust at the University. "The charitable remainder trust provides a higher rate of return than the stock market," Robin notes. The trust also offers significant tax benefits and lifelong income-and will create a scholarship fund for Boston University students who share the Margesons' dedication to Baroque music. "Historical Performance provides the next generation of performers for Boston Baroque. We are thrilled to be a part of this endeavor," Robin says. With a charitable remainder trust, she adds, "everybody benefits."