An education that framed a law career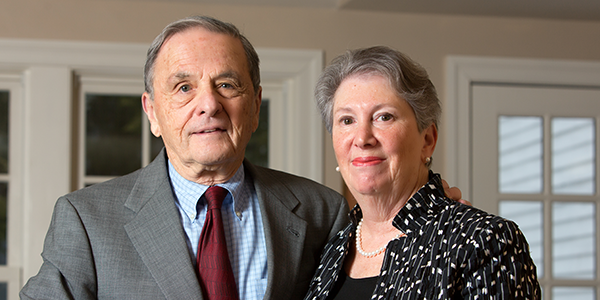 Paul Lipsitt (LAW'52) has strong ties to the Boston University School of Law that are both professional and personal: his education profoundly shaped his career, and his law school roommate introduced him to the most significant person in his life, his wife Brooke.
BU LAW figured large in two generations of Lipsitts: Paul and his father Joseph (LAW'18). Joseph inspired Paul not only to pursue a career in law but to train for it at Boston University. In fact, the two practiced law together in New Bedford, MA, for several years until Paul returned to school for a graduate degree in psychology from the University of Chicago. This second degree placed him in the forefront of a new field of study: forensic psychology.
In 1965 Paul went to work for BU's Law-Medicine Institute and remembers it as deeply collegial and interdisciplinary. There psychiatrists, psychologists, lawyers, and social workers, all working together on issues related to law and medicine and mental health. He later worked for the Massachusetts Department of Mental Health and for Harvard University, before he rejoined the BU staff to work with adolescents.
"The thing that framed my whole career," Lipsitt says, "was my education at BU. And the longer I worked, the more I appreciated what BU gave me. I feel that I owe it a lot."
In 1996, Paul and Brooke Lipsitt established the Joseph Lipsitt Faculty Research Fund, to pays tribute to Lipsitt's father Joseph while enabling law faculty to engage in research. As a sign of their continued commitment to BU, the Lipsitts decided to include BU in their estate plans.