Sustaining Space Science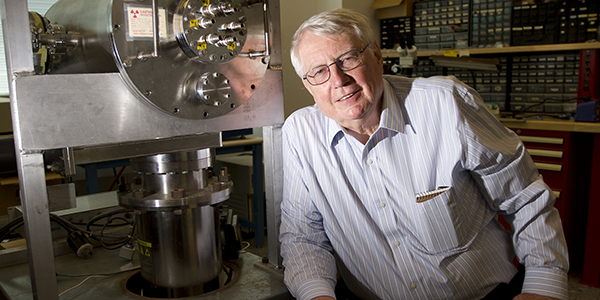 Ted Fritz fell in love with space science the year that Sputnik launched-1957, his freshman year at college. Today, as a professor of astronomy at the Boston University Center for Space Physics, he lives his passion, as a space physicist and scholar of "space weather." He studies and forecasts the impact of vigorous solar activity that can disrupt power and communications on Earth.
With more than 20 years at BU and many more years of space research and project development experience, including projects for NOAA and NASA, Ted is the principal investigator of Boston University Student-satellite for Applications and Training (BUSAT). BUSAT's mission is to involve students in the design, fabrication, and operation of a Low Earth Orbiting small satellite and its instrumentation, specifically for space weather forecasting.
A History of Helping Students
Ted began gathering graduate students in 2006 to help design and build the satellite. When the project opened to undergraduates, the research teams grew, along with the need for summer stipends to help students cover their living expenses.
"These students would make NASA proud," Ted says fondly. Inspired by their dedication, he decided to motivate BUSAT alumni to give back to the program by making his own gift of $10,000 through an IRA charitable rollover distribution.
Since then, Ted has made two additional $10,000 gifts, bringing his total contribution to $30,000-all through IRA charitable rollovers and all income tax-free. It's been a wonderful way to support BU, his inspirational students, and his lifelong passion.