Showing Their Gratitude For Guidance and Support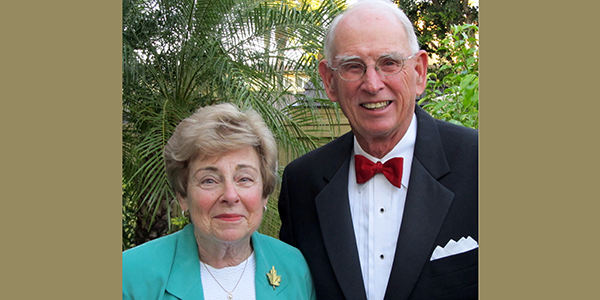 Donna and Doug Barnard, BUSM graduates of the class of 1965, have been loyal supporters of the School for almost four decades. Recently, they extended their support by creating a charitable remainder unitrust to benefit the new student residence on campus.
"Medical school is very expensive now," say the Barnards. "To have a student residence is about as good as it can get for a medical student. They can now live on campus, close to class and the hospital."
The Barnards met each other at the first social event held for incoming medical students to BUSM. They got married that year and by the end of their second year had a baby daughter.
"Six months later, Donna lost her dad and her financial support," recalls Doug. "My family could not afford both medical school and college tuitions. At this point, we were on our own financially. With the medical school's backing, we decided to take a year off, earn some money, and try to come back the following year to complete our education. BUSM helped both of us obtain jobs within the medical community. At that point, we still needed financial help. The School was more than willing to work with us and gave us scholarships and loans that allowed us to continue."
They went on to graduate and complete their internships as well as have a second child, a son. To this day, they are not sure how they made it through that internship year.
"When we were in trouble financially and emotionally with our own lives, BUSM provided guidance and support for us," say the Barnards. "BUSM gave us the opportunity to succeed."
Eventually, the training they received at BUSM allowed Donna and Doug to have productive and satisfying professional lives. Donna helped found a practice with an oncology hematology group. As for Doug, after an anesthesia residency and a year in Vietnam, he left the Navy and moved to private practice north of Boston.
"To give something back is very important to both of us," says Doug. "The charitable remainder unitrust is a way to assure us of a small income for our lifetime and to be sure BUSM is the eventual recipient of our gift."