Donor achieves A Hat Trick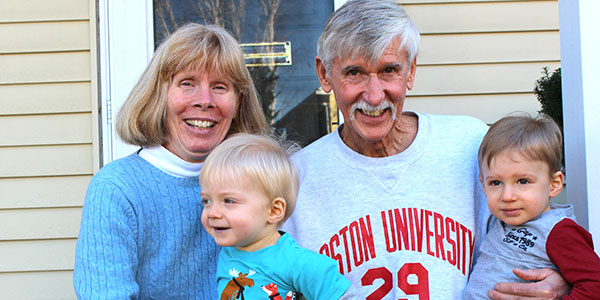 Is there a way to combine gratitude to BU, love for hockey, and sound financial planning?
There is. Just ask Jay Burnett (CAS'70). He has set up two charitable gift annuities at BU; both are "all about hockey" and are meant to honor the University's influence on his life. The annuities will provide a fixed income stream during his lifetime and will one day benefit the hockey program he is passionate about. He also earned a charitable income tax deduction in the years the gifts were established. Burnett set up his first charitable gift annuity to support BU women's hockey in 2008.
BU made a long-lasting impression on him. "You couldn't fake it at BU," he says. "The professors engaged you. You couldn't sit quietly in class-you had to participate. I didn't fully appreciate that for many years."
Burnett has now retired from his work in fisheries science, but BU's impact has stayed with him and so has his love for hockey. As his son Josh grew, hockey became a fixture in the family's life as well. Josh played through high school, and father and son still enjoy games together.
Burnett's second charitable gift annuity was made to BU men's hockey in honor of two new hockey players in the family-his twin 20-month-old grandsons. "They got skates for Christmas!"