Paying Tribute to a Favorite Professor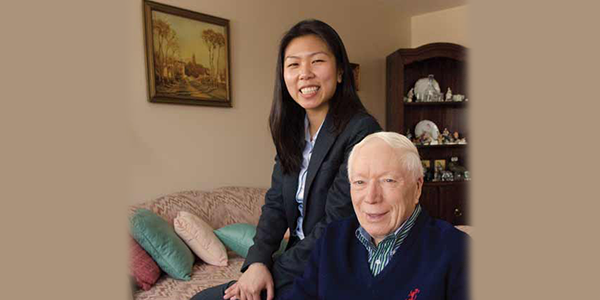 When Dorchester, Massachusetts, native George Hansen began his education at BU's School of Management, he doubted he could afford to finish. "My family scraped enough money together to get me into Boston University," says Hansen, who would later work in corporate finance at General Electric for four decades. "But I couldn't envision three more years." With the help of James Fawcett, his Accounting 101 professor, however, he found a job in the school's accounting office. Between that and some scholarships, "I did manage to make it to graduation," he says, "and I owe it to Boston University and Professor
Fawcett. Without that combination,
I wouldn't have gotten where I am."

Hansen gives today's School of Management students the same chance through the James Fawcett Scholarship, which he funded in part through a charitable gift annuity. "I chose a CGA because of the tax and income benefits," says Hansen, who got a significant charitable tax deduction when he made his gift. His gift annuity will provide him with
income for the rest of his life - and ultimately support students in need.

"I always had the idea that you have to be a millionaire to set up a gift like this," says Hansen. Now, he adds, "I feel like a millionaire! The charitable gift annuity helped me meet my philanthropic goals."
© 2018
Crescendo Interactive, Inc.
PRIVACY STATEMENT
This site is informational and educational in nature. It is not offering professional tax, legal, or accounting advice.
For specific advice about the effect of any planning concept on your tax or financial situation or with your estate, please consult a qualified professional advisor.